The other day while I was looking for my high protein flour, I came across lots (and I really mean lots) of balance ingredients from last year's Raya. So, I decided to make muesli bars out of those ingredient before expiry come acalling....
Nutty Muesli Bar
A/
100gm butter
50gm brown sugar
250ml honey
B/
150gm wholemeal flour
1tsp baking powder
200gm rolled oats
100gm sunflower seeds
100gm pumpkin seed
100gm sesame seeds
100gm walnuts/almonds or any nuts
100gm rice puffs (I combined with cocoa puffs)
100gm dried cranberry
100gm golden raisins
100gm Hawaiian coconut flakes
½ tsp salt
Melt butter on low flame, add in brown sugar and stir till sugar dissolved. Stir in honey and bring to boil. Remove and let cool slightly.
Combine B ingredients in a large bowl, stir thoroughly. Slowly pour in butter-sugar-honey mixture.
Mix until well combined. (I used hand gloves)
Take a 10 x 10 x 2 in tray and lined with aluminium foil. Transfer mixture into tray and press to compact.
Bake at 170C around 40-50 minutes or until brown. The temperature depends on your oven. Once baked, remove from oven and press again for a firmer layer.
Let it cool and cut into bars.
I did three recipes, one with dried fruits and two without as my children doesn't really take them...this is the one with fruits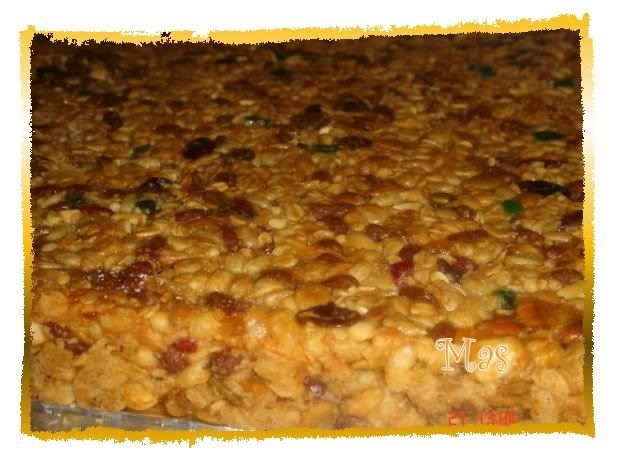 and the one without